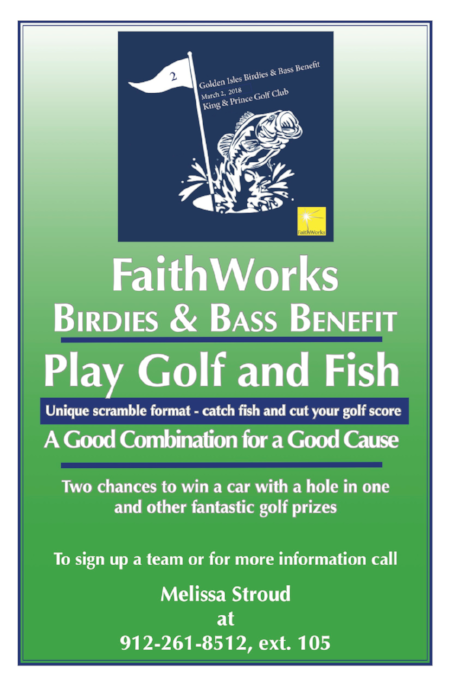 Birdies & Bass:  FaithWorks announces our 2nd annual signature golf event held at the King and Prince Golf Course!  Teams compete in 18 holes of golf preceded by a fishing derby where teams can shave strokes off their golf score by reeling in big fish from a lake by the King and Prince clubhouse.  Last year we had 22 sponsors and hope to double the amount this year!
Scramble Format:  Each team member tees off and the best shot is selected. The three other players retrieve their balls and hit from the best position, and the same until the ball is holed out. Prizes paid out in at least two men's division, and one women's division. Max of 2 mulligans per player will be sold at registration. ($10)
When:           Friday, March 2, 2018 – Registration and fishing begins at 10am.  
                      Mulligans available for purchase.  Practice allowed until shotgun start.
                      Golf begins at 12:00 with a shotgun start.
                      Fishing not required!  Those who wish to golf only may register at 11.
Where:          The King and Prince Golf Course, 100 Tabbystone, St. Simons Island.
Cost:             $100 per person to participate – Four person teams. 
                      Corporate sponsorships also available.  Hole sponsorships begin at $150.
To Sign Up or Become a Sponsor:    Click here to go to our secure donation site or oontact Melissa Stroud 912-261-8512 x105.
Our tournament is always looking for volunteers. For more information about becoming a volunteer or having your child fish in our fishing portion of the event, please contact Melissa Stroud at 912-261-8512, ext. 105.