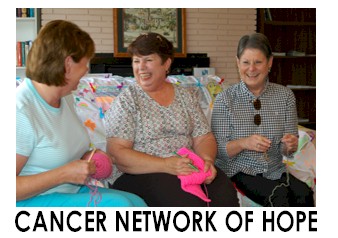 It takes a lot to be a cancer survivor.
That's why the Cancer Network of Hope provides tender loving care to those who's lives have been touched by cancer.
We network with local physicians and other national, state, and local outreach programs -- as well as the Cancer Care Center of Southeast Georgia Health System, the American Cancer Society, and the Georgia Cancer Coalition -- to determine what resources are available and how to obtain them. Our volunteers are always good for a listening ear, a friendly hug, and helpful information.
Visit with local Cancer patients, give them a ride to treatment, send a note of encouragement, cook a meal or knit a prayer shawl. Let them know that someone cares.
To volunteer with the Cancer Network of Hope, please click here.
For more information, contact: Melissa Stroud 912.261.8512 Extention 105 melissa@faithworksministry.org.
---
Karen Milburn Fund
 In 2014, the Board of Directors established the FaithWorks Foundation, and $50,000 has been designated as The Karen Milburn Fund.
Proceeds from the fund will be used to assist area cancer survivors. Individuals, foundations, and organizations may make a donation to this fund at any time.
For more information, contact:
Wright Culpepper
912.261.8512
Extention 101
mel@faithworksministry.org
Missy Morrison
912.261.8512
Extention 102
missy@faithworksministry.org

---