Volunteer Center
We are always looking for volunteers to help us in our outreach efforts. Come and be a part of this exciting and rewarding experience by helping us help others.
Sparrow's Nest
A Clearing House for local churches assisting families with utilities, medicines, food, and other needs. We also have a food bank! Stock our shelves, fill bags, and distribute them to those who visit our office on Altama Avenue. We give out over 50 tons of food every year!
Click here for more information about Sparrow's Nest.
Click here to volunteer at the Sparrow's Nest.
The Well
A former downtown bus terminal, the Well facilitates a number of resources for people who are homeless; including a shower, a laundry room, phone, Internet access, and an address for correspondence. As well as providing support groups, the Well is a safe place for social activities, and even houses a chapel.
We also offer transitional housing (1-3 nights) for homeless persons who are being discharged from the local hospital. Eventually, we hope to offer permanent supportive housing for homeless and those at risk of homelessness. There are numerous ways we can connect you to the homeless who live along the Norwich Corridor.
Click here for more information about The Well.
Click here to volunteer at The Well.
Cancer Network Of Hope
Visit with local Cancer patients. Give them a ride to treatment, send a note of encouragement, cook a meal or knit a prayer shawl, make telephone calls, lead support groups, wash and change linens, and more! Let them know that someone cares.
Click here for more information about the Cancer Network of Hope.
Click here to volunteer for the Cancer Network Of Hope.
Open Doors
Persons reentering the community after incarceration face numerous challenges. We have opportunities for mentoring, coaching, teaching, case management, job training, and more.
Click here for more Volunteer info at Open Doors
Samaria Initiative
We have several ongoing programs to help persons safely serve those who live in poverty or who face difficult challenges. These include our Wolfe Street Food Distribution (Tuesdays at 1:00), Norwich Corridor Outreach (Tuesdays at Noon), the Burroughs Molette Mentoring Program and other short term opportunities.
Click here for more information about the Samaria Initiative.
Click here to volunteer for the Samaria Initiative.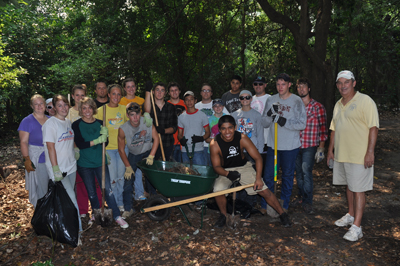 How Your Organization Can Help
Neighbor Connection
We always need trucks and backs to help pick up furniture and other items that persons wish to donate. Help us keep a long list of persons and trucks so that we can have people available when needs arise.

EMT – Emergency Mobility Team
Our community's EMTs maintain the firehouse equipment, while being ready to respond at a moment's notice. FaithWorks' EMTs volunteer in the office for a four-hour period every week and are ready to drive someone to a doctor's appointment, deliver food to a family or elderly person, and/or address a crisis need in our community.

Local Ministry Coordinator
Various youth and adult groups from outside our area contact us for opportunities to perform a local mission project while visiting the Golden Isles. We need volunteers to help coordinate and host these special people who seek to serve our community.

Fundraising
Assist in planning and implementation of various fundraising events throughout the year.
Be A Part! Be A Volunteer!
We're always in need of:
    Administrative Assistants
    Fundraisers
    Interns
    Mentors
    Special Events Community Outreach
    Volunteer Guest Speakers

Feel free to call us with your ideas!
Contact:
Wright Culpepper
912.261.8512
Extention 101
wright@faithworksministry.org