Our 3rd Annual Birdies and Bass Golf Tournament is March 8!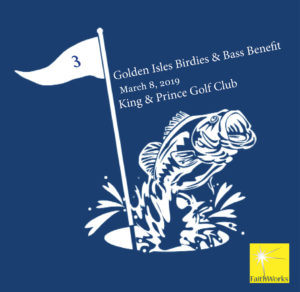 Birdies & Bass:  Not your everyday golf tournament – this event combines two great sports:  fishing and golf.  If one doesn't work for you so much, the other will! It's a great event for a good cause.  We've had good fun for the past two years and now it's time to sign up again!
Teams compete in 18 holes of golf preceded by a fishing derby where teams can shave strokes off their golf score by reeling in big fish from a lake by the King and Prince clubhouse.  We've had great support from sponsors and team players alike.
Fishing will begin at 9:30, followed by lunch and a four-person shamble. The best two scores on a hole for the four-person team will count towards prizes.  The entrance fee is $400/team, or $100/person.  There will also be an opportunity to play in a "yellow ball" tournament for $100/team.  There's even a chance to win a car with a hole-in-one!  Prizes will be awarded in two categories:  gross and net,
So gather your team, then click here to sign up!  Or let us know if you'd like to volunteer.  Any questions, just call Melissa Stroud at 912-261-8512 x105.