Boz's Bash Food Drive July 30-August 3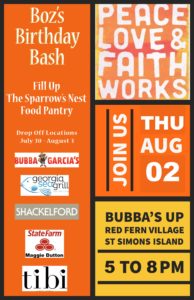 Come fill our food pantry and honor 'Boz" Bostock, a much-loved and remembered St. Simons character. Just bring donations to Bubba Garcias, Georgia Sea Grill, Shackelford Shoes, Maggie Dutton – State Farm Agent or Tibi Store and help them collect the most food! During the week of July 30-August 3 you can also bring food to our booth outside Gnat's Landing in Redfern Village. Let's fill the food pantry!
There will be a special celebration of Boz's life on Thursday August 2nd from 5-8pm.  Come and share a smile.
Any questions, please contact Melissa Stroud melissa@faithworksministry.org.