You Doubled Your Gift in 2018!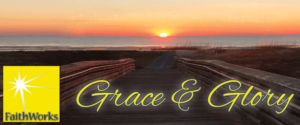 'Twas the season for holiday giving!  Thanks to two generous donors, every gift you made through December 31 was doubled up to a maximum of $100k.  And we raised over $123,000! Thanks to you all for your amazing generosity – we are already putting your contributions to wise and good use in our community.
2018 was an amazing year for FaithWorks.  Your generosity allowed us to serve a record number of young families, the elderly, the chronically ill and our homeless population.  However, while we were able to help so many, we could not assist all who came to our door.  The requests for help exceeded our donated food supplies and financial resources.  The need is great.
Our worst fear is not being able to help those who truly need it.  Your gifts continue to support those most vulnerable in our community through our ministries and outreach.
Comforting the Sick

Cancer Network of Hope provides support and encouragement for people who have cancer.

Feeding the Hungry

Sparrows Nest food pantry and benevolence fund provide sustenance and financial support.

Serving Those Who Are Homeless

Case Management service reconnects people with essential public services and healthcare safety nets to reestablish their position in life.
Open Doors offers employment readiness and possible housing apprentices who complete the program.
The Well is a hospitality and day resource center for people who are homeless, providing services such as a shower, laundry, phone Internet access, refreshments and an address for correspondence.
Through giving to FaithWorks, you become part of a network that is doing so much to create and restore wholeness in our community.  Won't you donate now?
To learn more, just visit our website www.faithworksministry.org.
To donate and make a difference, just click here.  If you prefer to mail a check, our address is:
FaithWorks
PO Box 2902
Brunswick GA 31521