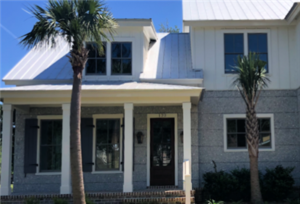 By  Lindsey Adkison
Mark and Leslie Coptsias have always been big believers in giving back. And they believe every person has a particular gift to share.
"I think everybody has one set skill or ability that can be a source of inspiration for others," Leslie said.
That, she adds, has certainly been on display during the coronavirus pandemic. Those with sewing talents have crafted masks while those with culinary expertise shared meals.
"I think we've seen a lot of examples of that … people wanting to pitch in and contribute in any way they can to help," she said.
For the Coptsias, they decided to tap into their speciality — home building to support a local nonprofit in a huge way. The two decided — pre-pandemic — to donate the proceeds of one of their new constructions from Picket Fence Properties to the local charity FaithWorks.
"We've been here for approximately 10 years now and we didn't know a lot about FaithWorks but met Charles Molloy (FaithWorks' development director). Through this evolution of friendship, we found ourselves wanting to do something to help this fantastic organization," Mark Coptsias said.
"It's almost a daily occurrence where you see something good that FaithWorks is doing. It's a really special organization."
They were moved by the work the umbrella charity organization does locally. From running the Brunswick-based food pantry, Sparrow's Nest, to offering a construction mentoring program, Open Doors, to help the homeless transition, the Christian-based nonprofit offers a wealth of worthwhile programming.
"We'd originally been asked about mentoring but I didn't have the time then … what we could do was build a house, sell it and donate the profits to FaithWorks," Mark said.
It took some time to plan — more than a year, in fact. They purchased a lot in Sea Palms, crafted the design and worked with vendors to get materials at ideal price points.
"Our suppliers and tradespeople were very pleased to help support the mission when we explained what we were doing. They were very enthusiastic and found ways of supporting it at some level," Leslie said.
Some of those companies who worked to help included Cherokee Brick, Colley Electric and Plumbing, Lang Building Supply and Overhead Door Company of Brunswick. It took many hands and many hours of work but last Friday — the Coptsias closed on the property.
"A new family moved in just last weekend," Mark added. "It all worked out great. We're doing the numbers on it this week and will determine the total donation."
They'd hoped to share the news with the community via a party, designed to raise even more awareness of FaithWorks programming. Sadly, the virus put the kibosh on those plans.
"We'd wanted to do a lot more around it but then everything shutdown," Leslie said.
Still, they hope that the grand gesture will inspire others to look for ways to give back in their own lives. It doesn't have to be something large scale — any act of kindness makes a difference.
"One goal was to raise the awareness so that other people can find ways to live out their faith … to find ways to do something impactful for the greatest good," Leslie said.
"It can be something as simple as volunteering … in fact, our son is volunteering there this summer. But everyone has something that they can contribute. Everything helps and everything counts," Mark added.
While proceeds from a home sale is an incredibly generous gift, the Coptsias' donation is — surprisingly — not a first for FaithWorks. The Rev. Wright Culpepper says a similar donation was made a few years back by a woman named Carolyn McCollum.
"Eventually, it became our prototype for Open Doors where we hire people who are homeless, teach them some carpentry/repair skills so they can find better jobs and then provide housing for them," Culpepper said.
"When we gently mentioned to the community that we would be happy to receive other houses, we never dreamed that someone would actually build one for us — what a wonderfully generous gift!"
He notes that funds given will be used to further the Open Doors mission, helping the program purchase and breathe new life into Brunswick homes, while helping the homeless.
"With this gift, we will be starting our sixth property soon. It is not easy work, but it is redemptive work, and we are grateful that we can continue this mission because of this generous gift," he said.
While area residents have always been willing to lend a hand to the charity, Culpepper has been very moved by what he's seen during the difficult days of COVID-19.
"The people of Glynn County never cease to amaze me. Even with the economic shutdown, we have been able to provide ministry to those who live in the margins of our community," he said.
"The Well has been open every day to those who have no home, the shelves at Sparrows Nest have miraculously been replenished every day as we feed the hungry, obstacles have been removed for cancer patients and our pastoral care work at Southeast Georgia Health System have all continued due to the love and generosity of so many. We have had to make some adjustments for safety, but the work in the trenches continues."