Matching Gift Challenge – Help Us End The Hunger Season Today!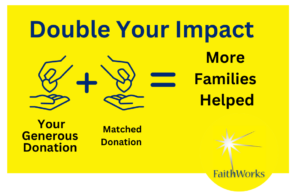 Right now, too many are experiencing the impact of rising food prices and housing costs. Our neighbors struggle with tough choices, pay housing costs and utilities or feed their children and elderly parents. Too many of our neighbors are living on fixed incomes, making them especially vulnerable. 
What can you do?
A group of local friends wants you to join them in helping our neighbors. They've pooled together a challenge fund to match every dollar you donate to Sparrow's Nest, up to $40,000.
With your help, our Sparrow's Nest food ministry in Glynn County and the Helping Hands food ministries in Camden County can be there for our neighbors when they are most vulnerable. 
This is a unique opportunity to make a big difference for our neighbors. Your generosity will be matched to help feed more of our families here at home!