Rebuilding Homes and Lives – By Danny McArthur in The Brunswick News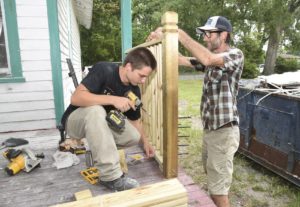 The FaithWorks' Open Doors program is restoring much more than houses. It is also restoring the lives of homeless people here in the Golden Isles, one renovated house at a time. The program does this in two ways — by hiring homeless individuals to restore properties and by allowing homeless people to rent them when complete.
The Open Doors crew's first project was renovating a property on Reynolds Street in Brunswick. It is now working on its second property on Lincoln Street. The project began July 12 with a 12-week completion schedule to get the house ready for sale or rent. The new property is approximately 1,450 square feet. It will be two different units with two different entrances. "Our goal is to get two families, or two separate entities, in either unit," said Ron Slade, who leads the Open Doors program.
https://thebrunswicknews.com/life/open-doors-program-starts-new-renovation-project/article_93a74a6a-d97e-5b6c-92b8-b604850896c9.html
Story in The Brunswick News by Danny McArthur 7/21/18