Fall 2023 Newsletter
In this newsletter, we feature some of the people who have made this ministry what it is today - your ministry and their ministry. FaithWorks and the success of our mission belongs to you and this community. It's a way we take care of each other, a way we tell each other you matter to me, and you matter to this community.
- Blessings from Wright Culpepper & The FaithWorks Team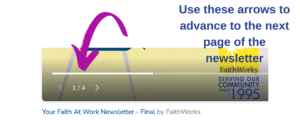 To navigate pages in the FaithWorks newsletter, please scroll to the bottom of the page. The page advance links are located on the bottom left of each page as illustrated here.